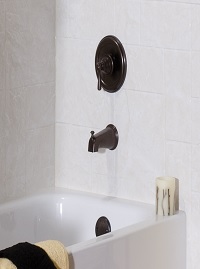 Patterned Acrylic Walls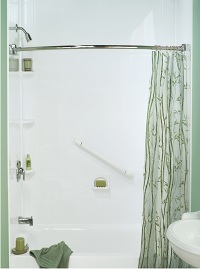 Basic Flat Walls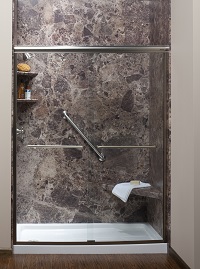 Sentrel Stone Walls
BathMaster's acrylic wall systems provide a beautiful, waterproof, and easy-to-clean bathtub environment. Our wall systems allow us to custom fit our walls to your bathroom specifications. Although walls are normally put in the bathtub surround, they can be continued into the main bathroom, usually as wainscoting.
Our walls can be enhanced with a full range of accessories.
With a wide selection of wall systems, we have something for every style and budget. BathMaster's wall systems can be installed in less than one day. Our installation methods and materials provide for thermal expansion; eliminating air gaps in or around the corners. They will not pull away from the walls or crack in the corners.
BathMaster walls are guaranteed not to fade, yellow, crack, bubble or peel for the lifetime of the purchase. Our walls are made with the highest quality raw materials and are thicker than the leading competitors.
We have many different wall options to help your bathroom dream become a reality!
Commercial Clients!
Our Affordable One Day Solutions are appreciated by our commercial customers.  Hotels, Motels and Apartment complexes particularly appreciate the minimal disruption, whether they require a single unit fix to a full scale multi-unit renovation.